What Does My Towing Capacity Mean?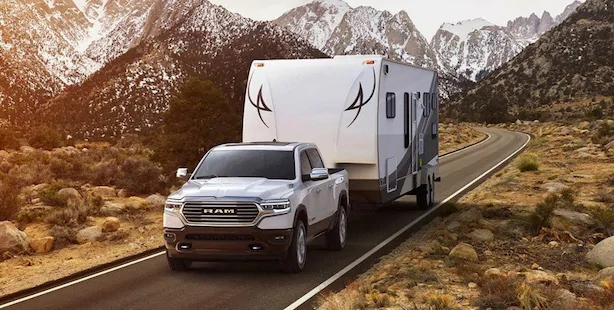 When it's time to take care of tough jobs–or to move your favorite toys–hitching up a trailer can make things a lot easier. Whether you're using your vehicle to tow a trailer or boat on the odd weekend or putting it to work day in and day out, understanding your towing capacity is crucial to ensure you don't put unnecessary wear and tear on your vehicle's parts.
At our Signal Hill Dodge, RAM, and Jeep dealership, serving Long Beach and Huntington Beach, a lot of folks are interested to learn more about just how capable their vehicles are. Towing boils down to more than just power, though. In addition to your engine and transmission producing the power you need to tow, your suspension needs to support the added stress and your brakes need to be able to slow your load.
Key Towing Capacity Specs to Know
When you're looking to get down to business and deal with some weighty cargo, there are three key figures you need to know. You'll find your vehicles weight ratings in your owner's manual.
What is Gross Vehicle Weight Rating (GVWR)?
This figure refers to the overall weight of your vehicle, and should be observed all of the time–not just when towing. This includes your vehicle weight, the added weight of your passengers and cargo, and the tongue weight. Tongue weight refers to the downward weight of a trailer on the hitch; a lot of folks forget this one, but it's important to factor in.
What is Gross Trailer Weight Rating (GTWR)?
Quite simply, this refers to the weight of the trailer and what's in it. While you might be tempted to try pulling more than your vehicle is rated for, it's never a good idea to push the limit. Even if your vehicle can get the trailer moving, it will put undue stress on the powertrain. Additionally, your vehicle might not have the stopping power to come to a stop safely. This is why many of the new trucks and SUVs at our Long Beach area dealership are geared with specially designed brakes.
What is Gross Combined Weight Rating (GCWR)?
This limit specifies how much your vehicle can collectively handle. While the GCWR includes the vehicle, passengers, cargo, tongue, and trailer weight, it's important to note that it's typically less than the sum of your GVWR and GTWR. If you're maxing out your Gross Vehicle and Gross Trailer Weight Ratings, chances are that you're over your Gross Combined Weight Rating and will have to shed some weight to operate safely.
Towing Capacity By Model
Once you know how much your vehicle can handle, it's easy to dive into tough jobs and get things done! And we have a wide variety of SUVs and trucks that are more than capable of handing a trailer. For more information on all that your truck or SUV can do, or to maintain your powertrain properly and avoid early wear and tear, be sure to contact Glenn E. Thomas Dodge Chrysler Jeep online or over the phone today! We proudly serve drivers from Signal Hill, Long Beach, Huntington Beach, and beyond.