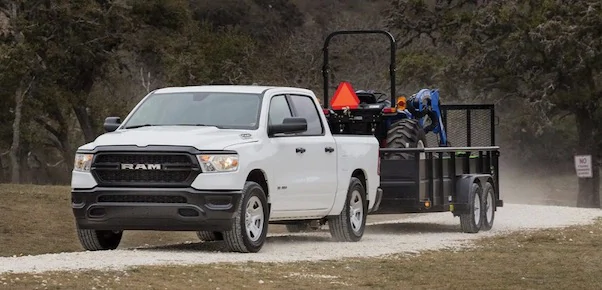 There's no denying that the 2019 RAM 1500 at our Long Beach area dealership is one of the most capable light-duty pickup trucks to ever hit the road. Built with comfort and capability in mind, it's the perfect truck for loading up on gear and toys, putting some miles on the odometer, and enjoying your next adventure.
When it comes to loading up, your trailer hitch magnifies what you can accomplish exponentially. So just what can you handle with RAM's ½-ton pickup offering? We're here to let you know.
Can the 2019 RAM 1500 Tow a Boat?
You bet it can! If you're looking to hit the coast and enjoy some time out on the water, then the 2019 RAM 1500 is the perfect pickup for you.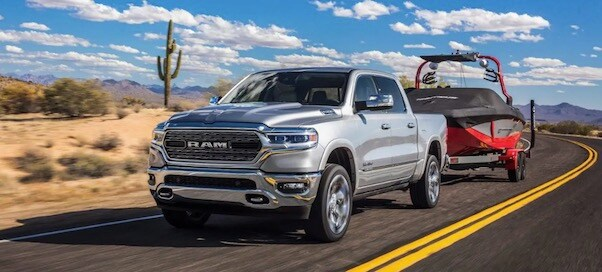 When properly equipped, this beastly pickup has a maximum towing capacity of up to 10,640 pounds. That's enough for a speed boat, a small fishing boat, or a couple of jet skis. Hitch up safely, and you'll be soaking up the Long Beach sun out on the water in no time.
Can the 2019 RAM 1500 Tow a Gooseneck Trailer?
Whether it's a heavy-duty trailer or a recreational vehicle, a gooseneck hitch is what you're likely to use for bigger loads. Installing a gooseneck hitch and using an adapter is also your best option for towing a fifth-wheel trailer. For loads of this caliber, you'll need to upgrade your air suspension; we can help in our service center.
What About Up Front?
From front-mounted tow hooks to bull bars with fishing rod holders, the 2019 RAM 1500 can be outfitted to handle just about anything you want to toss its way. If you have plans to head north, it also has the guts you need to mount a snow plow–but we suggest just staying here where it's warm, instead!
Whatever you want to achieve, the 2019 RAM 1500 is the perfect pickup for your next big job or adventure. To learn more, or to schedule a test drive with the team at Glenn E. Thomas Dodge Chrysler Jeep, be sure to contact us today.