About Glenn E. Thomas in Signal Hill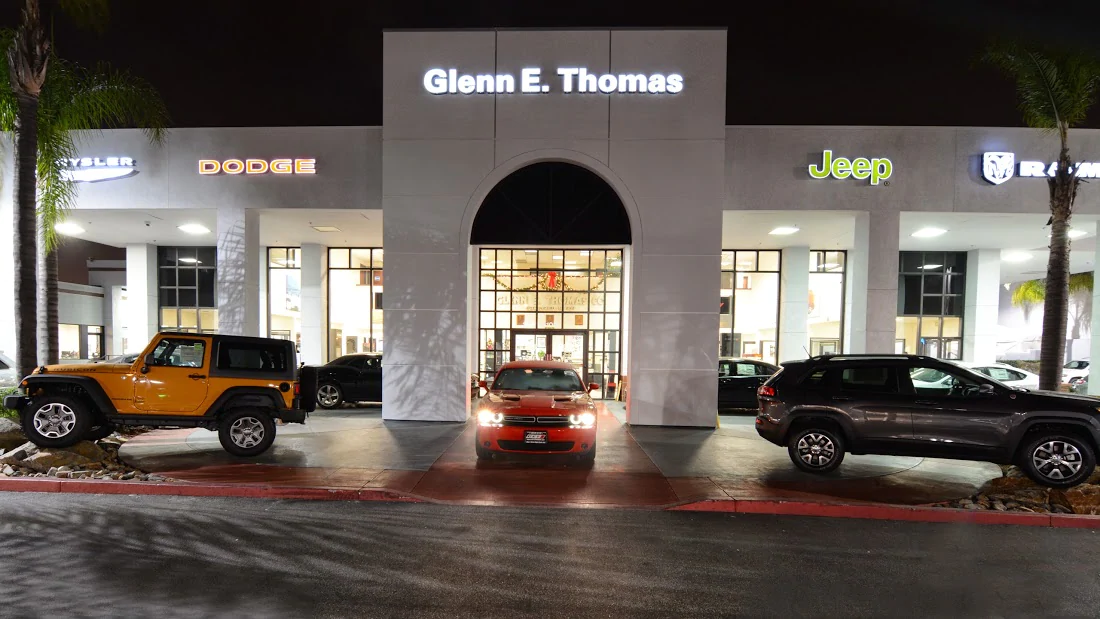 At Glenn E. Thomas Dodge Chrysler Jeep, we believe your car buying experience should be hassle-free. To that end, we take pride in serving our customers to the fullest both online and in person. Our site has been specifically designed to help you find what you're after, from new Dodge, Chrysler, Jeep, and RAM vehicles near Los Angeles, Huntington Beach, and Long Beach to used cars, financing help, car repair services, and genuine OEM parts.
We carry a full selection of the latest vehicles, providing you with the wide selection you deserve while shopping. When it comes to style, performance, and comfort, our inventory simply can't be beat. Explore our selection online, and then be sure to come in for a test drive you won't soon forget at our showroom.
Drivers Find it All at Signal Hill Dealership
Our staff is also on hand to answer any questions you have throughout the shopping process. Whether you're shopping for a new model or seeking a dependable used car near Huntington Beach, Long Beach, and Los Angeles, we're here to help you make the best decision for your needs and your lifestyle. Additionally, our financial experts can help you plan your lease or purchase for a smooth process.
As a family owned and operated dealership since 1909, we're proud to be a Five Star dealership. We're even #1 in customer satisfaction in California, and our award winning staff is waiting to help you with all your automotive needs.
No matter what you're after, we're always happy to help you get the most out of your time on the road. To learn more about Glenn E. Thomas Dodge Chrysler Jeep serving Huntington Beach, Long Beach, and Los Angeles area auto shoppers and owners, be sure to contact us online or to call us directly!
Hear What Our Customers Have to Say:
"Happy Customer"

I bought a 2005 Chrysler Sebring Limited convertible from Glenn Thomas Dodge, and I couldn't be happier with my experience.  The Internet sales agent I dealt with, Brad Davis, was very straight forward and honest.  He gave an exact description of the car, disclosed every aspect of the deal right up front, and competently handled the paperwork, shipping, etc.  After weeks and weeks of searching for exactly the car I wanted, I had a pretty good idea of the market and the prices for this model and year, and I can say I got a GREAT deal with no hassles

I live on the east coast, so before buying this car I had never heard of Glenn Thomas Dodge, and this was the first time I'd bought anything this big over the Internet.  I have to admit I was a little nervous about it until the car was actually delivered to me.  To my absolute delight, it arrived ahead of schedule and in better condition than I could have hoped for.  Thanks Brad!

-Matt Dunne
"Thank You!"

 My wife and I recently purchased a Jeep Wrangler Unlimited. We just wanted to let you know what a great experience we had at your dealership. We recently turned in a BMW lease next door and sat down to lease another BMW.  We realized very quickly that the BMW dealership we had dealt with in the past had changed it's ways in regards to customer service. Frustrated, we left and realized that the Dodge dealership was next door.  We decided to just stop by and take a look.  My wife has always wanted a Jeep Wrangler. But, I never thought it would be a good family car.  I thought it was more for fun. I was greeted immediately by a salesman named Tony Lappico. It only took him about 15 minutes to explain every model and option on the Wrangler.   He also took us for a tour of the dealership, repair/service center and even showed us some of the Wrangler models on the back lot.  He was very knowledgeable, low-pressure and very easy to talk to.  He even told us to go home and think about it, and we did. We came back the next day and decided to purchase a Jeep Wrangler.  Upon arriving, we could tell he was busy with another client, but he acknowledged us immediately.  He said he did not want us to have to wait so he introduced us to his associate, Beatrice Sharp.  We were just as impressed with her.  We also had a great experience with Jim Henderson and even the woman in finance (her name escapes me right now) as well.

We just wanted to say that we were treated very well and left that day feeling like we were valued customers and felt as though we made a good purchase.  We couldn't be happier with our Jeep!

By the way, we took the top down on the Jeep this weekend. My wife and I took our boys for a cruise along the coast. It's not only fun but, it is definitely a great family vehicle!

-Mario Hernandez