What is the Difference Between 4×4, AWD, FWD, and RWD?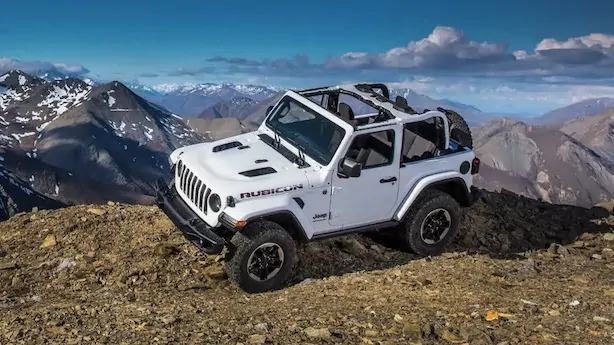 Whether you're visiting our Los Angeles area showroom to shop for a Jeep SUV or RAM pickup truck then it's clear you're someone who wants the power and capability you need to tackle tough terrain when the occasion arises. So, what sort of drivetrain should you look for? It depends on what terrain you're looking to tackle. Our experts are here to help.
What is Four-Wheel Drive (4WD, 4×4)?
4×4 is a term that refers to your wheels-you have four, and all four turn. With either a clutch or center differential, full-time four-wheel drive systems power all four wheels all the time. From tough terrain to dry, clean roads, a 4×4 system turns all four wheels safely.
A part-time four-wheel drive system is similar, but drives as a two-wheel drivetrain until you tell it otherwise. In this configuration, you should only be using 4×4 mode on tough terrain; overuse when its not called for can stress the system. On-demand 4WD systems are like part-time 4WD drivetrains, but they activate automatically instead of just when you turn them on.
What is All-Wheel Drive (AWD)?
Similar to four-wheel drive, all-wheel drive sends power to all four wheels and is safe to use at all times. Unlike 4WD, though, AWD doesn't provide a "4-low" setting for things like rock crawling and steep inclines. AWD is great for normal driving on dirt roads or in foul weather, but not as adept at hardcore off-roading as a 4×4 setup.
What is Two-Wheel Drive (FWD, RWD)?
Like the name suggests, two-wheel drive systems send power to just two wheels rather than four; either the front or rear wheels power the vehicle. Most sedans and SUVs will default to FWD (the F is for "front," not "four"); RWD is often reserved for sport cars or pickup trucks, which use it for sportier handling and adapting to heavy loads, respectively.
Part-time 4WD vehicles run as either FWD or RWD under normal circumstances, then switch to 4WD when it's activated. This is an ideal setup for driving during normal commuter conditions while still being prepared for off-road or foul weather conditions.
Which is Right for You?
All told, it depends on when, how, and where you expect to drive. We suggest dropping by Glenn E. Thomas Dodge Chrysler Jeep to check out some of your options, take a test drive, and discuss your choices with our experts. Contact us today to take the next step toward the perfect configuration for you!