Dodge Durango Maintenance Schedule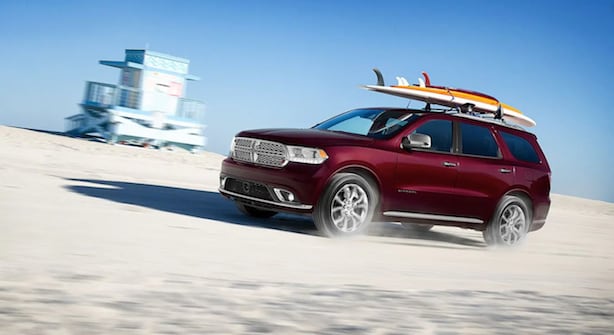 | | |
| --- | --- |
| Engine Oil and Filter | Change oil and inspect the filer at every oil change interval as indicated by the Oil Change Indicator System, or every 4,000 miles if operated in a dusty and off-road environment |
| Tires | Rotate at every oil change or at the first sign of uneven wear |
| Engine Air Filter | Inspect and replace every 30,000 miles |
| Air Conditioning Filter | Inspect and replace every 30,000 miles |
| Engine Coolant | Flush and replace engine coolant at 10 years or 100,000 miles, whichever comes first, then every 50,000 miles |
| Spark Plugs | Replace at 100,000 miles |
| Brake Linings | Inspect every 20,000 miles |
It's no secret that maintenance is a vital component of car ownership. If you want to get the most out of every mile near Huntington Beach, it's extremely important to keep up with regularly scheduled maintenance to avoid unnecessary wear and tear on your Dodge Durango, as well as costly repairs later down the road. This can be a difficult task when day-to-day life gets in the way but that's where our team at Glenn E. Thomas Dodge Chrysler Jeep can help!
When Should I Service My Dodge Durango?
Known as America's fastest, most powerful and capable three-row SUV, the Dodge Durango delivers solid performance and uncompromised utility. As your Durango accrues miles and years, however, certain services are required to keep your ride running at its best for years to come. Our skilled mechanics at our Huntington Beach area service center are here to help you understand when best to service your Durango with our maintenance schedule breakdown above!
Whether you're in need of repairs or routine maintenance, Glenn E. Thomas Dodge Chrysler Jeep is here to help. Once you know the service you need, feel free to contact our service team to schedule maintenance and keep your Dodge Durango running like new.