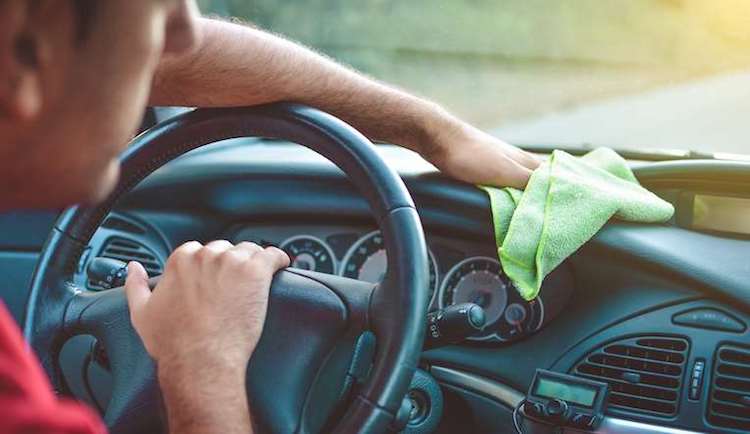 Sanitation and cleaning have become a priority for homeowners in the wake of the coronavirus–but what about the inside of your car? Whether you're running out for crucial supplies or are an essential worker, it's important to keep your car as clean as your home. Learn how you can safely ensure your vehicle's interior is germ-free with these tips from our Chrysler Dodge Jeep RAM dealer serving Huntington Beach.
Wash Your Hands Before Getting Behind the Wheel
Thoroughly wash your hands before climbing inside your car. Handwashing can reduce the number of germs you bring inside your ride and can limit the spread of bacteria.
Wipe Down Touchpoints
Contaminants and grime can quickly build-up on surfaces you come in contact with the most. Be sure to use a safe cleaning agent to disinfect common touchpoints like door handles, seat belts, gear shifters, the steering wheel, dashboard, and touchscreen displays.
Vacuum Up Loose Dirt and Debris
Ready to break out the vacuum? Drivers can easily, and inadvertently, track dirt or other germs inside their vehicle after each trip to the grocery store or drive to work. Take care to routinely vacuum carpets and floor mats and suck up any loose debris for a clean you can see.
Sanitize Seats
If you're in need of a deeper clean, you can always shampoo and scrub cloth seats as needed to beat stubborn stains and ground-in dirt. It can be tricky to clean leather and vinyl upholstery, however, so be sure to treat these unique surfaces with the appropriate cleaning and disinfecting agents.
Get Your Vehicle Clean With Help From Our Dodge Chrysler Jeep RAM Dealer Near Huntington Beach
Should you need extra assistance getting your vehicle clean, don't hesitate to turn to the professionals at our Huntington Beach area service center! Our team of experts can help identify appropriate cleaning agents and recommends testing any product or treatment on a spot out-of-sight to prevent discoloration or damage.
With these tips, you can efficiently clean your vehicle's interior and enhance both you and your passengers' safety in these uncertain times. Please don't hesitate to contact us at Glenn E. Thomas Dodge Chrysler Jeep for additional advice or to schedule a service appointment.