If you spend much time behind the wheel of a pickup truck and interact with other drivers who do, too, you're likely to learn a quick lesson about loyalty. The lines are drawn in the sand when it comes to pickup truck manufacturers, it seems, and most folks aren't too eager to switch sides once they've declared their pick–at least, not without a great reason.
Here at our Los Angeles area dealership, the 2019 RAM 1500 is a perfect representation of the leaps and bounds that RAM has made in recent years. While we haven't been keeping count, we're proud to say that this outstanding all-new pickup has been bringing plenty of shoppers across no man's land to come and join the RAM camp.
So what makes the 2019 RAM 1500 so exceptional that shoppers would cross enemy lines to get behind the wheel at our Los Angeles area showroom? A lot of it has to do with the RAM 1500's latest features and upgrades, which blow previous generations of pickups out of the water. It also has a lot to do with capability, which is best captured by the reactions of drivers who've spent time behind the wheel of the competition.
A Battle of Wills
At the end of the day, pickup truck shoppers care more about what they can accomplish with their trucks. At the Denver Towing Challenge, fans got a real-world look at what this truck is capable of when Eric Serani, a pilot and Ford F-150 owner, but the RAM 1500 to the test towing an airplane simulator for the Young Aviators program that he works with.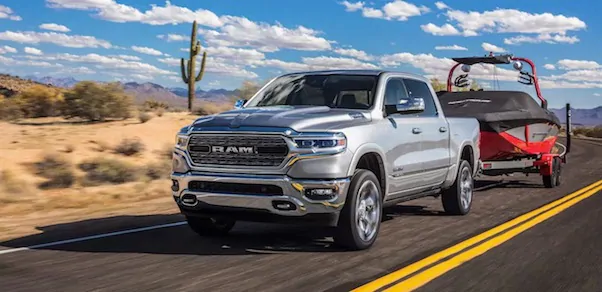 Serani was very impressed by the 2019 RAM 1500's innovative towing features, like the available 12-inch touchscreen and 360º Surround View Camera with Hitch View, class-exclusive Active-Level™ Four Corner Air Suspension, and the Blind Spot Monitoring system–which keeps an eye out for your trailer's blind spots, too.
After arriving at his destination, Serani shared that, "it was great. The ride was really smooth, it towed great, and the interior was really nice." When asked about switching from Ford–which Serani's dad drives, too–to RAM, Serani said, "Yeah, I could see the switch to RAM in the future."
Looking to make the switch for yourself? Don't hesitate to contact Glenn E. Thomas Dodge Chrysler Jeep today.