Bed, box, cargo area–whatever you call it, the business end of your pickup truck is tucked behind the cab. While any truck likely provides you with a good amount of space for loading up on whatever gear, tools, or cargo come your way, a well-designed bed will help you to get more done in the same amount of space.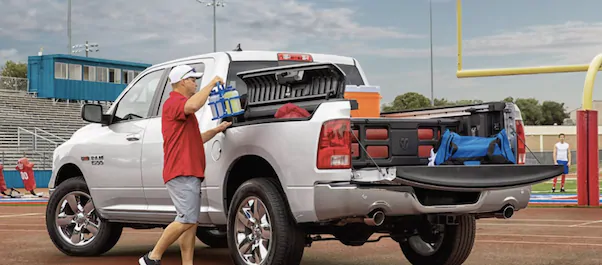 Here at our Long Beach area RAM dealership, the RamBox® Cargo Management system is the name of the game when it comes to getting the most out of your truck. Taking advantage of what would typically be wasted space under the sidewall of the truck's bed, the RamBox® reinvents the way you stash your cargo.
A Wealth of Uses
An incredible addition offered on the 2017 RAM 1500 Express at our Long Beach area dealership, the RamBox® offers an innovative alternative to the traditional truck bed toolbox. Rather than taking up about a foot of the bed length to give you a place for your must-have items, the RamBox® builds a lockable storage space into the sidewall.
By placing storage here, RAM allows you to use the whole bed. Even better, it's easier to access without climbing into the truck bed, and the bed width still remains wide enough to accommodate standard sheets of plywood between the wheel wells.
On top of being lockable, the RamBox® also features adjustable dividers, LED lighting, storage netting mounted to the lid, and a built-in drain plug. That makes it perfect for far more than just your tools. Headed out for hunting season? Lock up your firearms safely, then use the drainable compartment to bring home your take and rinse it out afterward. Tailgating? Toss in ice, and your cooler is built right into your truck when you set up for the day.
With the entire bed freed up, you've got space to haul just about any payload that comes your way. When you need even more length for special items, though, simply drop the tailgate and toss the available bed extender on to add even more cargo space to the equation.
To see the RamBox® firsthand, simply drop in for a test drive! Our team is here to help you choose the truck and features that are perfect for your lifestyle, so be sure to contact us online or to call the Glenn E. Thomas Dodge Chrysler Jeep team directly at (888) 217-3025 today!