Not only is spring in full swing, but summer is practically here! Now is the perfect time to finally tackle that spring cleaning, and your car is the perfect place to start. After all, you want your ride to be shining like new in the summer sun when you head out on that road trip or joyride.
If you're due for an oil change or other service, then simply come and see us at Glenn E. Thomas Dodge Chrysler Jeep to get the service you need along with a complimentary car wash! If you're headed out to wash your car in the driveway instead, then be sure to check out our cleaning tips.
An Inviting Interior
Start off inside your car, since the cabin is where you'll be spending your time while cruising. While cleaning your interior, doing things in the right order is the name of the game.

Start off by cleaning out junk and throwing away garbage to clear the space, then hit the seats and carpets with a good vacuuming; this ensures that you won't just rub in loose dirt while wiping things down.
Next up, take a damp cloth to your seats and carpets. Just be sure not to use anything too wet, or you'll end up waiting for things to dry. For tough spots or stains, be sure to use a dedicated automotive upholstery cleaner, as other soaps or detergents may be too harsh for your car's materials. After you wipe off the dash and other surfaces, you can apply a protective coating to keep things looking great.
An Exterior That Turns Head
Of course, the first thing people see when you pull up is your car's exterior, so you really want it to shine! Just like your interior, your exterior should be washed with automotive-specific soap to ensure the clear coat isn't damaged. Be sure to use soft cloths, like microfiber, to prevent small scratches, too!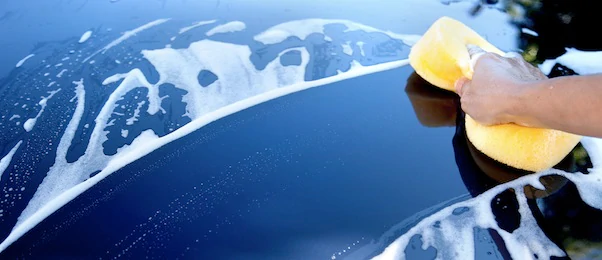 Just like the interior, the outside of your car deserves a protective coating, too; in this case, applying a coat or two of wax will leave you with the protective shine that you love.
In addition to getting your car looking great, a nice, thorough spring cleaning also makes follow up cleanings during the summer that much easier. For more information on how to care for your car, including maintenance and car wash options, be sure to contact Glenn E. Thomas Dodge Chrysler Jeeponline or to call our team at (562) 426-5111 today!