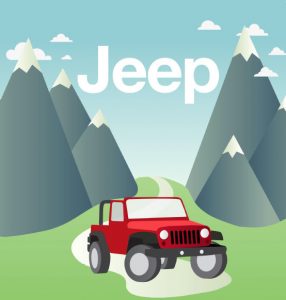 You can't get to where you're going without knowing where you've been, because to understand today, you must search yesterday. Jeep drivers are explorers in nature. They've earned this title while ripping up the trails, climbing the terrains that other vehicles only dream of, and blazing the unbeaten path.
Every time a Los Angeles Jeep driver takes a seat in their Jeep preparing to conquer the road ahead of them, they're actually taking a trip through history. Jeep has quelled wartime, ascended the highest of hills, and entrenched themselves into the fabric of America.
Discover Jeep History
It's obvious why so many intrepid souls choose Jeep as their ride. From its creation in 1941, Jeep has handled everything thrown its way, including war. The average number of Jeeps per U.S. infantry regiment during WWII was 145, while throughout the duration of WWII 700,000 Jeeps were produced. Jeep was there aiding in the fight of some of the bravest American heroes this country has ever seen.
In fact, 18% of all U.S. wheeled military vehicles in WWII were Jeeps. Not only did they aid America in WWII, we sent 30% of Jeeps manufactured to American allies. Jeep was a staple in battlefronts all over the world, assisting in defeating one of the worst threats to freedom and equality.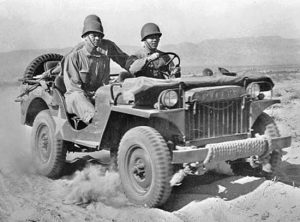 How many other vehicles can say they've earned a Purple Heart by the U.S. Marine Corps and survived two beach landings?
Jeep can, Oorah!
There's a reason why Jeep drivers have a can do attitude. The original Jeep prototype took only two days to be designed by Karl Probst. Working from scratch, the first Jeep was created by Willys-Overland after only 49 days of work. When you undertake your next task, whatever it may be, you'll be building off the rich history of working efficiently and getting the job done right.
Coming to America
Jeep hit the streets of America in 1944, as the first released model was the CJ. In 1987, the CJ evolved into the Jeep Wrangler that drivers have come to know and love today from our Jeep dealership serving Los Angeles.
Some things have changed within Jeep throughout its existence, but one thing that remains true is that with this vehicle, you can go anywhere and do anything. The first Jeeps that invaded the beaches in WWII did so with 60-horsepower. Today, the base model of a Jeep comes standard with 285-horsepower. Get out and have fun, and make your own history with the power of Jeep!
Stop in to our Jeep dealership serving Los Angeles today to get behind one of these momentous rides and start writing your own story! For more information, don't hesitate to call (888) 793-8276!