2019 RAM 1500 vs. the Competition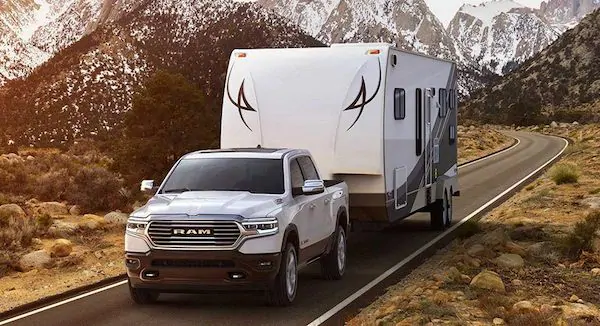 You're probably thinking to yourself that the words "RAM" and "competition" don't even belong in the same sentence. That's fair. Here at our Los Angeles area RAM dealer, we can't blame you for thinking that: The RAM 1500 is about as good as trucks get. But there are other vehicles out there in truckland, so let's look at what the 2019 RAM 1500 Big Horn has got to offer…and what the Ford F-150 XLT and Chevy Silverado 1500 LT have no answer for.
Power to Pull…and Perform
Real trucks are built to tow, and from southern California to wherever else it takes you, the 2019 RAM 1500 out-tows them all. It has best-in-class V8 engine towing, with the ability to haul up to 12,750lb. That's 250 more than the Silverado, and over a 1,000 more than the F-150 can manage. You read that right.
And the V6 RAM packs serious punch, too: The 3.6L V6 option with eTorque delivers 305 horsepower, knocking out both the F-150 and Silverado V6 models.
Whichever engine you choose, only the RAM 1500 comes equipped standard with an 8-speed automatic transmission. That means you're in for smoother, more efficient shifting with RAM 1500 compared to the 6-speed automatic transmissions in the F-150 and Silverado.
Exclusive Active Level Four-Corner Air Suspension
The RAM 1500 is beautifully brawny, and it's got brains, to boot. It offers available Active Level Four-Corner Air Suspension which will automatically raise or lower the truck based on what load you're hauling or how fast you're going, helping reduce drag and improve efficiency. Don't even bother looking to see if the F-150 or Silverado has that, because it's a class-exclusive.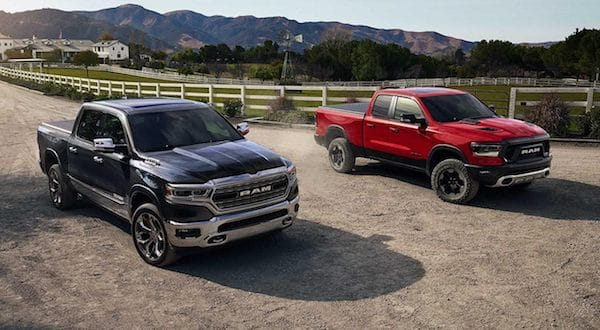 Unrivaled Interior
The new RAM 1500 is your home on the road. Ford F-150 and Chevy Silverado can't match the crew cab edition's best-in-class 45.1 inches of rear legroom, so your family doesn't have to suffer in a cramped backseat. And unlike those two trucks, the new RAM 1500 comes with push-button start standard for your convenience.
Oh yeah, and whenWardsAuto recently named the new RAM 1500 one of the 10 Best New Vehicles for User Experience, it wasn't just up against other trucks: This thing has interior options that even most foreign luxury sedans lack. Other trucks don't stand a chance.
RAM Your Way Through LA
Let's face it: There's only one RAM in this comparison, meaning there's only one truck that offers class-exclusive RamBox® cargo holds and the guts you expect from a great pickup truck.
Ready to test-drive the best? Give Glenn E. Thomas Dodge Chrysler Jeep a call at (888)-495-8772 or contact us online to set up a test drive.