Our Huntington Beach area Chrysler Service Department wants to keep your car rolling in the right direction. Now that the summer months are upon us and the weather is warming up, it's crucial your tires are in peak condition. Properly inflated tires assure the best possible contact between the tires and road, helping you become one.
Driving around with underinflated tires can lead them to overheat and will leave you on the side of the road with a blowout.
We don't want to see you stuck in pit-row so we've made it nice and easy for you to ensure that you're always traveling on the right threads.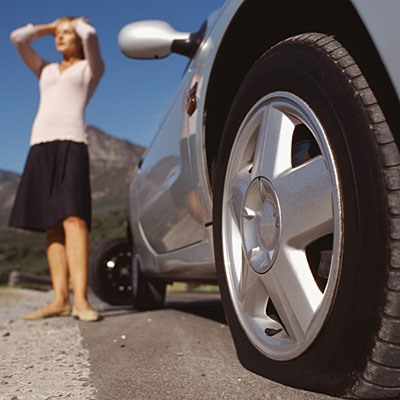 Under Pressure
The auto repair experts on our Chrysler Service team near Huntington Beach have laid out these three simple steps to ensure that you're vehicle has properly inflated tires.
Get a Gauge
You'll find a simple tire air pressure gauge at most auto parts stores for a few dollars, or you can spring for a digital air pressure gauge even though it's not a necessity. While many gas and service stations have air available that comes with it's own gauges, it's always good to have your own on hand.
Check the Pressure
First, you're going to have to check your owner's manual or the sticker located on the inside of the driver's side door for the ideal pressure of your tires. Smaller compact and mid-size sedans typically have PSI levels between 30 and 40 PSI, while larger vehicles have around 45 PSIs.
You're going to want to check your vehicle's tire pressure when the tires are cold, because this will give the most accurate reading. Wait at least three hours after operating your vehicle for the tires to be ready. To get a PSI reading on your tire, place the gauge onto the valve stem evenly. Press the gauge down on the stem to get your reading.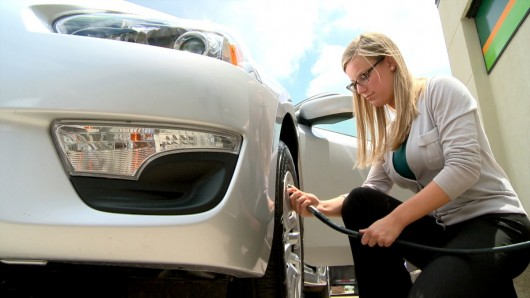 Adjust the PSIs
Once you know if your tires need more air, you can head to your gas station or service station for air. Deposit coins into the air machine and get your hose ready. Put the air hose nozzle onto the tire stem and fill to the proper PSI. It's important to have your gauge as you fill the tire to check the levels, as you don't want to over-inflate your tires.
After you fill the tires to the desired levels, replace the stem caps by screwing them back on. You should check your tire pressure weekly, particularly with severe weather and temperature swings. By going through these steps, you're now best suited for safe and optimal fuel-efficient driving.
We'd like to invite you to swing by our Chrysler Service Department serving Huntington Beach if you've found that your tires needs some attention. We'll always get you back on the road in no time. If you have any questions or concerns, feel free to give us a call at (565) 425-5111 today!